Welcome to Friendship Friday – a week-long event where you can:
Share what's unique about you and your blog!

Foster friendships with other bloggers!

Expand your social media networks!
This Week's Theme
Something Old, Something New
Thank you, Ramona, for hosting this blog. I have to confess, I stole the top portion of this post from you. Now I feel better.
Well, there is me, of course, but I also want to repost something I wrote for the All I Want for Christmas Pet Hop. I love the piece, and I think it got buried under all the holiday frenzy.
I'm taking part in the All Pets Want for Christmas Blog Hop on December 8, 2012 and I wanted to share a pet story with you.
In 2002, our dog, Benny, died of old age. My husband, Hans, fell into a deep depression and spent his days sitting in a chair and staring into space. Occasionally he would sigh. I had to work, so I was distracted during the day, but when I came home without a bark to greet me, Benny's absence was deeply felt and I would cry when I was alone. His loss was exacerbated by the earlier death of our fourteen-year-old cat, and the house felt too big for the two of us. One afternoon, I put Hans in the car and headed for the local kill shelter. Hans is disabled, and we had decided to look for an older dog hoping it would be easier for him to handle.
Sweetpea was sitting in the corner of a cage on a bare cement slab. She was all alone, and in the next cage was a litter of puppies playing and barking. Sweetpea was silent, and she eyed me suspiciously. I thought about our decision to find an older dog, one that had already been potty trained, but when I saw this sad figure with long legs, big feet and soulful eyes, my heart went out to her. I asked the attendant to take her out so we could interact with her, and we went to wait in the lobby.
The cage had been located on the dark side of the kennel, so I didn't get a good look at her until the attendant brought her to us. She was going to be a big dog, and she looked a little like a hound, but her most outstanding feature was her lovely brindle coat. She was quite beautiful.
We stroked her and she responded by wagging her stubby tail, but she was so distracted by the noise and other people that it was hard to get her to look at us. Still, there was something about her, and even though she was only six weeks old, we adopted her and brought her home.
Sweetpea turned out to be an easy dog to train. She was very smart, but she held back her affections. Being abandoned at the shelter must have been traumatic for her. She wasn't going to give her heart unless she was really sure we were the right ones. People were leery of her because as she grew, she looked more and more like a Pit Bull. We didn't care, we just loved her.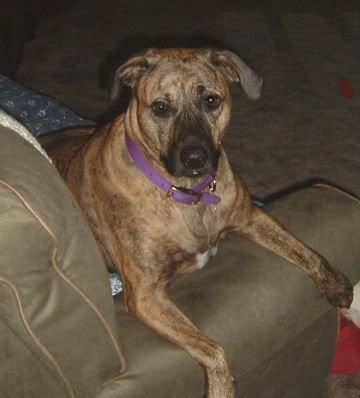 Dogs are wonderful creatures. True love will change them over time, and even the most traumatized dog will change in a loving home. You also have to establish that you are the pack leader, or they will take over the house. In our home, I'm the hard ass, while Hans is the soft underbelly. My children learned early to ask him if they wanted something, because mom always said no. For Hans, Sweetpea's reluctance to bond was a challenge, and he met it with a brush and a song. While I was at work, he would be brushing her coat and singing old German songs to her, and his complete devotion to her softened her heart. After the first year, she would jump in his lap and sit with him on the recliner, until she got too heavy and hurt his legs. Then she would sit on the recliner alone.
I loved putting my arms around her neck and hugging her. She was the size of a small person, so it was very comforting to hold her. She would submit to my affections for a while, then she would pull away. She always maintained a bit of her original reticence, and she would only kiss you when you came through the door at the end of the day. She would run to greet me, and in that minute of excitement I could steal a kiss, but she would only offer the tip of her tongue on my cheek. It was fun seeing her get that excited, for she would spin around and around. She would also spin to indicate her excitement over taking a ride in the car, and once inside, she would bark at every living thing on the street, especially if it was attached to a bicycle.
Sweetpea grew into her name and became the nicest dog we'd ever owned. She was good with the grandchildren when they arrived, and she was the only dog my mother-in-law ever liked. When we would sit together on the sofa, I would tell her about my day, and she would star at me in rapt attention as though she understood every word. Then I would begin to say "Who's the baby?" and she would jump off the couch and begin to sing. We all had to sing along with her, and I often wondered what it sounded like to those walking past our house.
One day, my husband took Sweetpea out for a walk. She had a cut on her foot, a recurrent problem that we had brought to the vet's attention several times, and she was always given an antibiotic as treatment. Hans kept it clean and bandaged, but we never got a solid diagnosis. I bought little booties for her to wear to keep it clean when she went outside. It didn't bleed; it just kind of smoldered until it healed. When they returned to the house Hans went to the porch to read his paper and Sweetpea followed him. I was in the living room when he began to yell, and when I reached the porch I could see her staggering. She looked at me and I swear the look on her face was asking me "Why?" She then dropped to the floor, but she kept crawling until her heart stopped.
There was no time to take her anywhere for help. It was over so fast that my Hans just sat there in shock, so I called my son to come over to help us. There was fresh blood on her bootie which made me think that despite taking the antibiotics, the infection must have gone to her heart.
We toyed with the idea of getting an autopsy to find out why she had died, but the cost of having it done was too high, and since I couldn't bear the thought of her being underground, when my son, Tom, arrived we asked him to help us find someone to take care of her. We found a place online that would cremate her and return her ashes to us, so we called them and soon a young man arrived with a small truck. Tom helped him carry her outside and put her in the back. We said our goodbyes and she was gone. When Hans and I were left alone, we both broke down and cried. She was our baby. Sweetpea was only six years old.
We have another dog now, Trixie, another shelter dog. She is the light of our life, but we have never forgotten our girl, our Sweetie. Her ashes sit on a shelf in our home next to a picture of her with Hans. Some dogs are family, period. They leave a hole in our hearts that can never be filled. Be thankful for your healthy pets and give them anything they want for Christmas. Trixie hasn't given me her list yet, but I'm sure she will.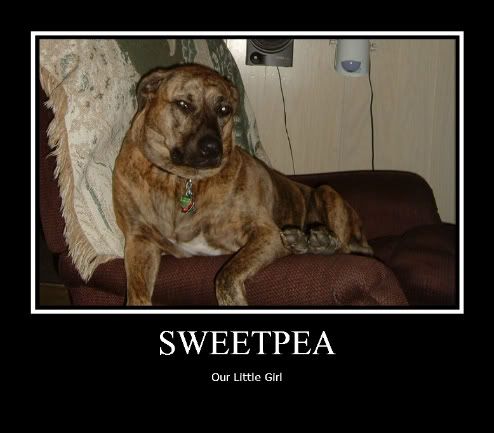 And now for Something New:
I will publish the last book in my series called Pello Island in the very near future and will reveal the cover here as well. It is called Destinies Fulfilled Pello Island 4.
I want to get more organized so I don't spend so much time media socializing and spend it writing my next book instead. Sometimes I feel like I have a full-time job keeping up with all my sites, but I really have to do something because I feel antsy, like the characters are restless and need to be commited to the page.
I want to get well. I am undergoing a series of medical tests and so far so good, but I still feel kind of yucky. Hopefully, we will find out what is wrong so we can treat it. Good thoughts would be much appreciated.
HAPPY NEW YEAR ALL AND TO ALL A GOOD NIGHT!